As St. Louis rounds the corner into a second pandemic spring, a new Kirkwood transplant is a shining example of self transformation during a time of transition.
A Chesterfield native, Cara Harjes moved to Denver, Colorado, to pursue a master's degree in counseling in 1999. But after practicing psychotherapy for several years, Harjes began feeling burned out. To exercise a different part of her brain, she started scrapbooking in 2005. That same year, she married her husband, Herb.
"By 2010, it escalated to collage and mixed media. Eventually, my husband asked me to make a painting for Christmas in 2010," she said. "I bought a canvas and I made a painting, and I really loved it. The more interested I became in art, the easier it became to walk away from that first career."
Harjes began painting for friends and family. From there, she went from coffee shops to craft fairs to fine art fairs to hanging work in galleries, all the while immersing herself in colors and textures.
But in 2016, tragedy struck when her husband died from cancer, leaving her alone with two daughters, ages 4 years and 8 months, respectively.
With her life partner gone, Harjes supported herself and her young family the best she could. She attended support groups for young widows and relied on friends for help. But through it all, Harjes knew she couldn't allow her grief to restrain her.
"When you lose a partner like that, people tend to deal with it in different ways. For me, I wanted to be more than a heartbeat in a body. I wanted to continue to live and expand, and have joy and do work in the world that feels important and beneficial to other people," she said. "My loss wasn't the point at which everything stopped. It was almost a launching pad. I want to acknowledge and create and point people toward the beauty that is in life, while also acknowledging and embracing that life is really hard."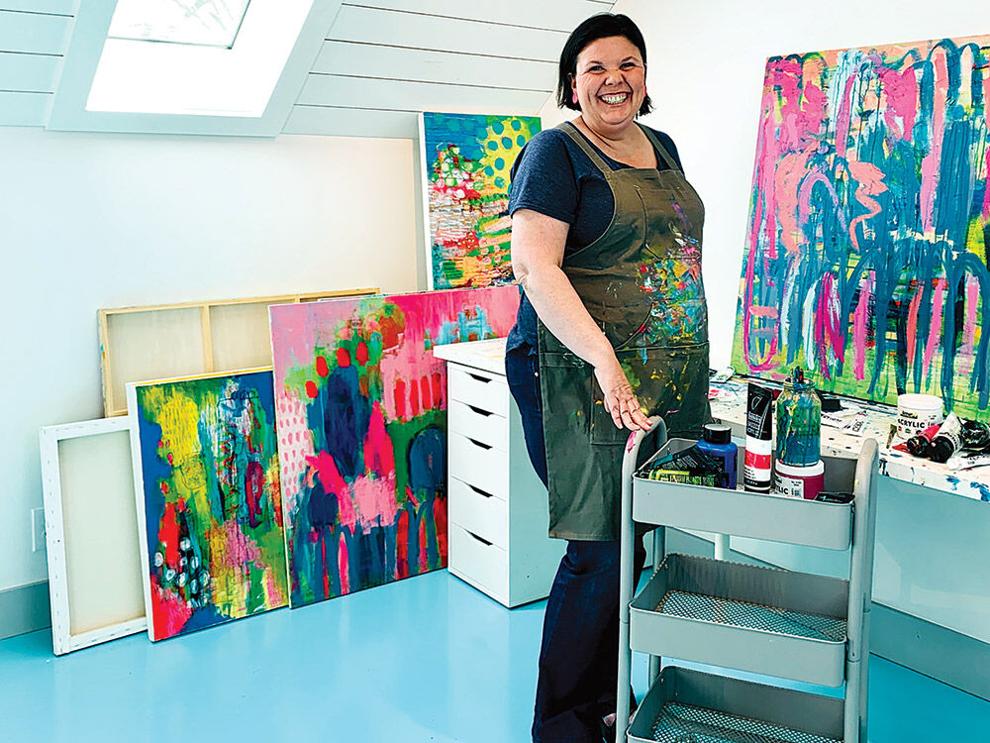 Harjes' paintings began to reflect her mindset. At first, her colorful canvases seem bright and joyful, but look closer and the hurt is there — smudged lines, smears and drips, corners and edges that blend together. Her paintings reflect the point at which pain and beauty intersect.
In July 2020, Harjes and her daughters — now ages 9 and 4 — relocated to Kirkwood, where Harjes' mother lives. Her children now attend Tillman Elementary School and the Kirkwood Early Childhood Center.
Harjes now refers to herself as an "intuitive painter," and she hosts classes and group workshops to teach her process to others. During the sessions, Harjes hopes to open minds and help people transcend their perceived limits.
"The person with a rich creative life, somebody who is connected to their creative self, a visionary who is very expressive — I love working with people like that. But, the people I love even more are those who say, 'I haven't picked up a crayon since I was in third grade,'" she said. "I love to push the boundaries about their beliefs in themselves and their creativity. If you start expanding their belief in one area, they start to think about other areas. They think, 'If I was able to take a painting class, what else could I do?'"
Harjes' classes include more than brushwork. Intuitive painting experiences might include journaling, sharing stories, discussion or reading excerpts from books or poems. In longer retreats, which Harjes intends to restart after the pandemic, participants will head to destinations for five or six days and combine intuitive painting with travel adventures.
And while Harjes' participants will walk away with a work of art, that's not the point of the experience.
"The process of painting can open up someone's mind. It's all about allowing whatever comes your way to come and not trying to resist anything. It's less about what the painting looks like," she said.
Now through May 1, Green Door Art Gallery in Webster Groves is featuring Harjes' artwork. "Pivot" is an abstract collection inspired by the flexibility required to live in pandemic times. A four-piece collection titled "Mellow Yellow" is an exploration of negative space and florals.
And Harjes' very first painting? She still holds onto it as a reminder of that first joy, of all the heartbreak she has endured, and of the blend of both that make up each and every human being.
"I try to emphasize the space in between the beauty and pain that we all experience in life," she said. "It's easy to focus on one or the other, but I think the real meat is when we allow both to exist at the same time."
Harjes is hosting a meet and greet (masks required) on Saturday, April 10, 2 to 5 p.m., at Green Door Art Gallery, 21 N. Gore Ave. in Webster Groves.
Learn more about Harjes or sign up for a class at www.caraharjesart.com.