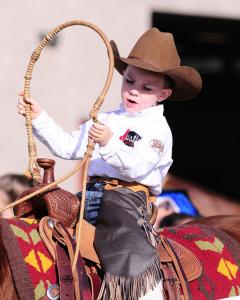 Exhibitors of all ages get in on the action. Photo Credit: Jeff Kirkbride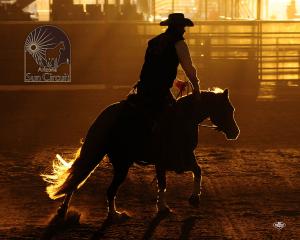 Scottsdale's atmosphere and location draw crowds from around the country. Photo credit: Jeff Kirkbride
The Arizona Quarter Horse Association (AzQHA) welcomes competitors and spectators from around the nation to enjoy horses and the cowboy lifestyle.
CAVE CREEK, AZ, USA, February 28, 2023 /EINPresswire.com/ — The Arizona Sun Circuit celebrates its 50th anniversary March 4-12 at Westworld of Scottsdale. Sun Circuit is AQHA's largest circuit show in the west and provides a can't-miss atmosphere of fun and excitement for competitors. Adding to the inherent draw of the show itself, Arizona's sunny disposition beckons people from around the nation with a promise of a winter reprieve.
The AzQHA invites everyone to come out and see what the horse lifestyle has to offer. Families and horse-interested visitors of all ages will discover the welcoming atmosphere, enjoy shopping, and get the chance to learn through the free educational clinics offered at the show.
"Sun Circuit paves the way, having more than doubled in size since changing dates from January to March," says Brian Dygert, past GM of Westworld of Scottsdale and founder of Cowboy Office.
The continued popularity of Sun Circuit is attributed to the focus of being an event where people have fun and see a vast array of classes running simultaneously. As CEO Doug Huls says, "We're blessed with Westworld, because there's so many arenas and so many things that can happen there at the same time. We may be the only horse show left in the country where we have the ropers and the cow horses, and the reiners, and the pleasure horses and trail horses, and western riding… and I'm adamant that it stays that way."
They also have plenty to offer spectators and local residents who want to get a taste of the western lifestyle.

Free Clinics https://www.suncircuit.com/free-clinics/

Hershberger Performance Horse Sale https://www.suncircuit.com/hershberger-performance-horse-sale/

Over 100 Vendors

Up to 9 arenas of competition
Competitors from across the nation know it's worth the trip to attend the Arizona Sun Circuit. Arizona residents, don't miss this equine extravaganza that's hosted in your backyard! Make plans to attend by checking out the schedule so you catch your favorite events. More information can be found at https://www.suncircuit.com/.
Learn more by watching the Cowboy Office interview with AzQHA CEO, Doug Huls on your favorite podcast platform or by visiting https://cowboyoffice.com/ep012/.
FOR MEDIA INQUIRIES AND INTERVIEWS:

ConsultMent Agency

Chelsea Sutton

252-717-9919

[email protected]

——-

Cowboy Office, located in Cave Creek, AZ, is a consulting company featuring video and audio podcasts focusing on the horse show industry and western disciplines of competition. Hosts Brian Dygert and Jody Brainard discuss relevant topics and innovative ideas with industry experts and guests from around the country.

Connect with Cowboy Office at www.cowboyoffice.com, on Facebook (https://www.facebook.com/cowboyofficeshow),

Instagram (https://www.instagram.com/cowboyofficeshow/),

LinkedIn (https://www.linkedin.com/cowboyoffice.com), or

TikTok (https://www.tiktok.com/@cowboyofficeshow).
Arizona Quarter Horse Association is an Arizona not for profit corporation organized for the purpose of being an affiliate of the AQHA to provide beneficial services for its members and non-members within the state of Arizona that enhance and encourage American Quarter Horse ownership and participation. More information can be found at www.azqha.org.
Chelsea Sutton
ConsultMent Agency
+1 252-717-9919
email us here
Visit us on social media:
Facebook
LinkedIn
Instagram
YouTube
TikTok


Originally published at https://www.einpresswire.com/article/619503136/arizona-sun-circuit-draws-crowds-of-horse-lovers-as-it-commemorates-50-year-anniversary