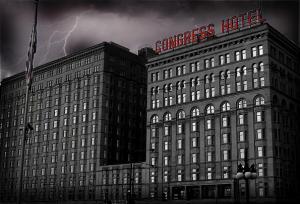 The Congress Plaza Hotel nominated by USA Today for Best Haunted Hotel in America (photo courtesy of FrightFind)
The Séance Experience™ Logo
The Séance Experience™ will be conducting live re-creations of authentic Victorian Era dark Séances at the Congress Plaza Hotel, a most haunted place in Chicago
For those who believe, no explanation is necessary.
For those who do not believe, no explanation is possible."
— Fred Kent
CHICAGO, IL, USA, September 14, 2023/EINPresswire.com/ — The Séance Experience™ just announced they are coming to Chicago and will be conducting their popular live re-creations of authentic Victorian Era dark Séances inside the Congress Plaza Hotel, said by many to be the most haunted place in the Windy City. The hotel has been ranked as one of the most haunted hotels in America with USA Today recently nominating it for the Best Haunted Hotel. Noted ghostly sightings at the historic hotel include the likes of former hotel residents: Al Capone, Teddy Roosevelt and Harry Houdini among others. The authentic séances will be offered to the public at varying times on weekends with tickets available through Eventbrite. Tickets start at $25 and an additional early bird discount is currently offered online.
The séances are slated at the historic downtown Chicago hotel in an area not usually opened to the public. Authentically re-created exactly as conducted in the 1800's, séances are scheduled inside an actual room built in 1893 using antique séance artifacts also dating from the 1800's.
Séances are typically hosted by a Séance Master who is a former College Instructor and published researcher on Paranormal Phenomena; he has appeared as an expert TV "Ghost" authority; he was a Houdini Séance organizer at the world-famous Magic Castle in Hollywood, CA and has conducted 100's of séances throughout the country.
The hotel boasts countless confirmations of actual verified historic sightings of the unexplained and paranormal. Attend this classic Victorian Era Séance and you too may get to say, "I see dead people," at one of the most haunted hotels in America.
Fred Kent
The Séance Experience™
+1 312-221-4800
[email protected]
Visit us on social media:
Facebook
Twitter
Instagram


Originally published at https://www.einpresswire.com/article/655282070/chicago-s-congress-plaza-hotel-to-be-visited-by-ghostly-apparitions