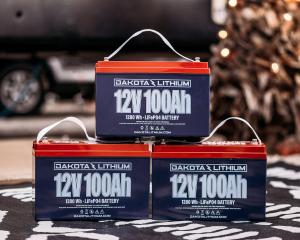 12V 100ah Price Drop
Explore Uncharted Savings This Leif Erickson Day
Pioneering Adventure with Unmatched Battery Power
Dakota Lithium is here to energize your Leif Erikson Day celebration, powering your passion for adventure and exploration."
— Andrew Jay, CEO
SEATTLE, WASHINGTON, UNITED STATES, October 6, 2023 /EINPresswire.com/ — A millennium ago, a fearless warrior-farmer, Leif Erikson, embarked on an epic voyage from Norway in a wooden sailboat, steering westward into the unknown. Fueled by an insatiable curiosity and a relentless thirst for adventure, Erikson became the first European to set foot on continental North America, leaving an indelible mark on history.
Today, Dakota Lithium proudly honors the intrepid spirit of explorers like Leif Erikson by crafting rugged and dependable power systems. With the same unwavering determination that characterized the Viking explorer, batteries from Dakota Lithium provide unparalleled power and durability for every journey, no matter how daring.
This Leif Erikson Day, embrace a life without limits with Dakota Lithium. Batteries from Dakota Lithium offer twice the power, half the weight, and a lifespan five times longer than traditional lead-acid batteries, all backed by an industry-leading 11-year warranty.
Andrew Jay, CEO of Dakota Lithium, commented, "Dakota Lithium is here to energize your Leif Erikson Day celebration, powering your passion for adventure and exploration. With a spirit as relentless and enduring as the Viking explorer himself, batteries from Dakota Lithium deliver unprecedented power and longevity, no matter the journey ahead."
Experience the freedom of adventure without constraints this Leif Erikson Day. Dakota Lithium's exceptional batteries will accompany you on every exploration, providing the reliable power you need.
To further enhance your celebration, Dakota Lithium is thrilled to announce significant price reductions on select batteries:
12V 10Ah: Price drop from $99 to $69

12V 100Ah: Price drop from $799 to $699

12V 200Ah: Price drop from $1,499 to $950

Powerbox+ 60: Price drop from $899 to $799

Powerbox+ 135: Price drop from $1,699 to $1,299
The sale end on the 16th October 2023.
For more information about Dakota Lithium and its range of batteries, please visit www.dakotalithium.com.
About Dakota Lithium:

Dakota Lithium is the leading consumer lithium battery brand in the U.S. and Canada. Founded in 2008 in Grand Forks, North Dakota, by two pilots and a chemical engineer, Dakota Lithium is built on a culture of relentless improvement and reliability. With twice the power, half the weight, and five times the lifespan of traditional batteries, Dakota Lithium batteries provide lasting value, reduce environmental impact, and come backed by an industry-leading 11-year warranty.
###
If you would like more information about this topic, please contact Erin Carey at Roam Generation – [email protected]
Erin Carey
Roam Generation
[email protected]
Visit us on social media:
Facebook
LinkedIn
Instagram
YouTube


Originally published at https://www.einpresswire.com/article/660012273/dakota-lithium-celebrates-leif-erikson-day-by-empowering-exploration