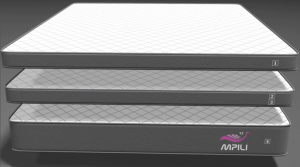 Interchangeable Layers for Tailored Comfort
12 comfort combinations. Your sleep, your way.
MPILI introduces Kickstarter campaign for MPILI 12 modular mattress system, revolutionizing sleep comfort with customizable layers. Join the revolution today!
MPILI 12 redefines sleep comfort by allowing personalized adjustments for a rejuvenating rest."
— William Ferland
QUEBEC, CANADA, August 17, 2023/EINPresswire.com/ — MPILI Unveils Kickstarter Campaign for Revolutionary Mattress System
MPILI Unveils Kickstarter Campaign for Revolutionary Mattress System
MPILI, an innovative startup, unveils its Kickstarter campaign for the revolutionary MPILI 12 mattress system, addressing sleep challenges for an exceptional resting experience. This campaign aims to raise funds to bring this revolutionary product to market.

Traditional mattresses have seen little evolution since the introduction of foam, with companies introducing new materials but the concept of a monolithic mattress with a single comfort level remaining unchanged. Recognizing this limitation, MPILI Founder, William Ferland, embarked on a mission to create a mattress system that offers unparalleled flexibility and adaptability.
The MPILI 12 mattress system introduces a new era of personalized sleep by utilizing a unique system of interchangeable layers. Sleepers can tailor their comfort and support by selecting the layers that best meet their preferences. This innovative approach ensures that users can adjust their mattress over time to meet changing comfort needs, avoiding the frustration of being stuck with a mattress that no longer suits them.
"We are excited to launch our Kickstarter campaign for the MPILI 12 mattress system," said William Ferland, Founder and CEO of MPILI. "For far too long, consumers have been limited to one-size-fits-all mattresses that fail to address individual preferences and evolving comfort requirements. With the MPILI 12, we are offering a game-changing solution that empowers sleepers to create their ideal sleep experience."
In addition to its innovative design, the MPILI 12 is engineered with sustainability in mind. The modular structure is designed to minimize waste and reduce strain on landfills, unlike traditional mattresses. Built to endure, each layer is crafted for longevity. If one layer needs replacement, consumers won't have to invest in an entirely new mattress, thereby avoiding waste, promoting sustainability, and offering long-term cost savings.
The MPILI crowdfunding campaign is currently in pre-launch, with its official launch scheduled for August 22, 2023, on the popular Kickstarter platform. This campaign will provide exclusive early-bird pricing and rewards for supporters. Backers will have the opportunity to choose from various pledge levels to secure their MPILI 12 mattress system and access additional perks.
To learn more about the Kickstarter campaign and be part of this transformative project, please visit the pre-launch campaign page at https://www.kickstarter.com/projects/mpili/mpili-12-one-mattress-12-firmness-options-1.
About MPILI:

MPILI is a company dedicated to personalized sleep solutions. With a strong commitment to innovation and quality, MPILI strives to provide premium sleep products that cater to the unique needs of each individual.
Media resources : www.mpili.com/en/media
William Ferland
MPILI
+1 418-801-7639
[email protected]
Visit us on social media:
Facebook
Instagram
YouTube
Experience the Best in Innovative Sleep with MPILI 12 | Kickstarter Campaign


Originally published at https://www.einpresswire.com/article/650343715/mpili-launches-kickstarter-for-game-changing-mpili-12-mattress-innovation