Icelanders have had a close connection with nature ever since the earliest settlements at the end of the ninth century. That connection has been kindled anew by the manufacturer and retailer Icewear. Their new outdoor line is insulated with Icelandic wool, a unique spin on a product with exceptional benefits. The industry will soon follow suit.
REYKJAVÍK, Iceland, February 23, 2023 (Newswire.com) - Icewear, the leading manufacturer and retailer of Icelandic wool products, has been operating in a changing market environment. One could say that responding to the travel restrictions and influxes in tourism has been almost as precarious as the natural environment that Icelandic sheep roam in. Both are rugged and harsh. Both have also spurred adaptation.
Icelandic sheep have been bred in isolation for over a millennium, and their wool has become unique in both quality and demand. At its peak, the Icelandic wool industry was exporting over 900 tons of woolen products annually. That doesn't even weigh in the domestic use of products.
Roaming freely through the Icelandic countryside for five months each year, for centuries, Icelandic flocks have been exposed to the elements. Icelandic farming practices have influenced the wool these sheep grow over countless generations.
Resilience is in the very DNA of Icelandic sheep—quite literally, since it's come out in how their wool grows. And Icewear has now taken this natural resilience to heart and rolled out a new outdoor clothing line based on it.
Environmentalism in Sheep Farming in Iceland
Shortly after lambs are born each spring, Icelandic farmers let their flocks out to roam freely through the summer. Instead of devoting vital resources to the transportation of feed and other supplies, farmers leave sheep to graze on the nourishing and self-sustaining roughage in the countryside.
Icelandic sheep are exposed to the changing weather into the fall before flocks are collected in an annual sheep-gathering festival. Over that time, sheep reach far corners of the countryside and explore the same wonders of the island that draw well over two million tourists each year.
This farming model is better for the sheep, better for the farmers, and better for the land. It's sustainability at its best.
Environmentalism in Icewear
Icewear is the world's only manufacturer of Icelandic wool insulation for outdoor clothing. Along with their traditional Icelandic sweaters and wool souvenirs, it's this new outdoor clothing line that has gained attention among environmentalists.
The Icewear team was determined to make a wool insulation with a combination of the two types of fibers in Icelandic sheep wool. The new Icewear outdoor line is insulated with insulation that uses both parts of the wool—and literal tons of wool that would otherwise be discarded because it doesn't have the structure necessary for yarn. The innovative wool insulation is also OEKO-TEX certified.
Environmentalism in the Icelandic Wool Industry
Icewear has proven that this Icelandic wool insulation model can be profitable as well as environmentally friendly, and it's anticipated that the rest of the wool market will follow suit.
Icewear's innovative use of technology in partnership with Ístex made it possible for the wool industry to become as resilient as the sheep that roam the countryside.
About Icewear
Icewear has been in operation for over 50 years. The company started as a knitting studio in Hvammstangi in 1972, and since has grown into an international line of Icelandic wool and outdoor apparel. Before the launch of the new outdoor line, traditional Icelandic wool sweaters were the products Icewear was best known for. With the new outdoor insulated line, Icewear has championed in a new era for the company, for consumers, and for the wool industry in Iceland and abroad.
Contact Information:
Robert van Spanje
Web manager Icewear
[email protected]
+3548511318
Related Images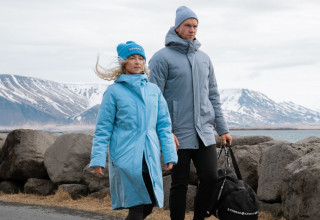 A Couple Wearing Icelandic Wool Insulated Parkas
Beautiful parkas with Icelandic wool insulation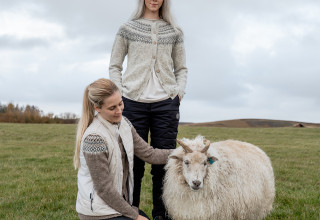 Icelandic girls with an Icelandic sheep
Two girls and an Icelandic sheep
Original Source:
Icelandic Manufacturer Drives Environmentalism With New Wool Technology